About Us
Why Trust Markon?
Our experienced consulting team can help you identify the right approach to use digital marketing. And our digital marketing team can help execute if you need us to do that as well.
ABOUT US
How does our service work?
All our projects start with a one month long one time Digital Marketing Audit & Consulting phase. During this phase, we help create product-market mix, digital-ready customer segmentation, customer personas, and audit your digital presence. Then we create an 12-18 month digital marketing roadmap, content marketing plan, marketing technology recommendations, and process changes to achieve your organization's growth numbers.
Before you commit too much time and money, this helps you understand how we work, and vice versa.
Once we identify the right digital marketing strategy for you through our Audit & Consulting, we can execute campaigns with our team, help hire and train team for you, or  identify the right partners for execution for you.
When we execute digital marketing campaigns, we prefer to start with a 3 to 6 month pilot program to set performance benchmarks, and then scale campaigns based on the metrics from the pilot. We charge a flat monthly retainer fees (typically in the USD 1000 – 3000 per month range) for our campaign management services.
We have a team with skills in Content Marketing, Web Development, SEO, SEM/PPC, Social Media, Email Marketing, and Marketing Automation. For any industry specific high quality content, we have an existing partner network that can be used at short notice.
You will be interacting with our experienced senior campaign managers, and can relax in the knowledge that our proactiveness will give you peace of mind.
Our Straight-Talking Leadership Team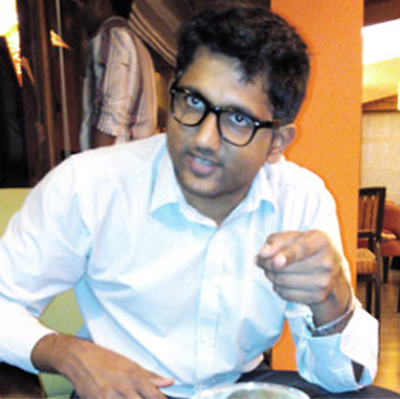 Aravind NG,
PGDM - GIM, Director
At Markon, Aravind is involved in developing and implementing marketing strategies for organizations across various sectors and geographic regions, as per the clients' vision, growth stage and objectives. By staying ahead of the digital marketing trends, he is able to offer effective, innovative marketing solutions.
Well-versed in the intricacies of PPC marketing, media planning and inbound marketing, Aravind strongly believes that when it comes to the creative side, things we perceive as brilliant are often the products of a refined process. Although he's someone who thrives on innovation and big ideas, he always stays true to the core tenet of marketing – the power of storytelling.
An engineering graduate from Cochin University, Aravind went on to do post graduation (PGDM/MBA) in Marketing & Operations from the Goa Institute of Management. Prior to Markon, he worked as a Business Analyst in the software sector. Aravind also has experience working in Pre-sales and Market Research.
As a digital native, he stays abreast with internet pop culture (so you don't need to!), social media, the latest techniques in digital marketing and, for good measure, cat memes.
Next Steps
Ask someone about us
Let us connect you to an existing or past client or someone from our common networks. We will also send some relevant case studies if you can tell us more about your business.
Let's Get Started
Ready To Make a Real Change?
Let's Build Together!